Group Theory by Mr. Muhammad Iftikhar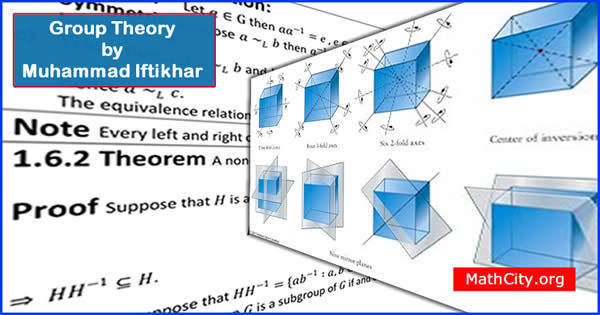 These notes are send by Mr. Muhammad Iftikhar. We are really very thankful to him for providing these notes and appreciates his effort to publish these notes on MathCity.org.
| | |
| --- | --- |
| Name | Lecture Notes on Group Theory |
| Author | Mr. Muhammad Iftikhar |
| Pages | 70 pages |
| Format | PDF (see Software section for PDF Reader) |
| Size | 1.8 mB |
Contents & Summary
Binary Operation

Groups

Order of a group

Order of an element

Periodic group

Finite and infinite group

Cayley table

Klien's four group

Involution

Cyclic group

Cosets

Equivalence relation

Lagrange's theorem

Relation between groups

Homomorphism

Cayley's theorem

Conjugacy relation in groups

Conjugacy class

Self conjugate

Double cosets

Normal subgroups and factor groups

Factor group or quotient group

The isomorphism theorem

First isomorphism theorem

Second isomorphism theorem

Third isomorphism theorem

Automorphism

Inner and outer automorphism

Complete group

Conjugation as an automorphism

Commutator

Direct product
Please click on View Online to see inside the PDF.
Download or View online
Notes of other subjects