FSc/ICS Part 1 (Mathematics): KPK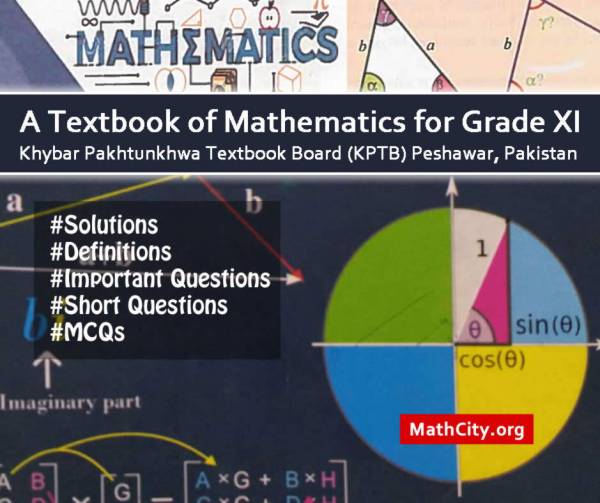 A Textbook of Mathematics for Class XI is published by Khybar Pakhtunkhwa Textbook Board (KPTB or KPTBB) Peshawar, Pakistan. The book has total of twelve (12) chapters.
This book is written by Prof. Dr. Gulzar Ali Khan, Prof. Dr. Islam Noor and Prof. Dr. Muhammad Shah.
Dr. Khan has been a member of the Advisory Committee, Ministry of Education, Government of Pakistan, Islamabad in the subject of Mathematics. He has also been a member of the National Review Committee (NRC) on mathematics.
Dr. Noor was a member of HEC curriculum committee for revising B.Sc, 4 years B.S and M.Sc. programs. He has organized seminars at Bara Gali campus, University of Peshawar for college teachers to cope with the changes made in the syllabus of F.Sc. & B.Sc.
Dr. Shah has been the Subject Specialist of Mathematics and Computer Science of Khyber Pakhtunkhwa Textbook Board since 2014 to 2017. He was the editor and reviewer of several textbooks of Mathematics and Computer Science.
One this page we have posted Solutions, MCQs, short question and important questions related to this subject. This book has a broad scope and is part of the Mathematics in FSc and ICS syllabus for Khybar Pakhtunkhwa and the Federal Board of Intermediate and Secondary Education (FBISE), Islamabad.
Our main aim is to help the students and teachers by providing all the things or resources related to this book so that students can prepare their mathematics paper to get good marks and teachers can get benefits to teach their students. Lot of people (students and teachers) help us to manage this page by providing resources which are necessary to prepare this subject. We are very thankful to them.
fsc
ics
part1
math 11
kpk
kpktb
kpktbb