Complex Analysis (Easy Notes of Complex Analysis)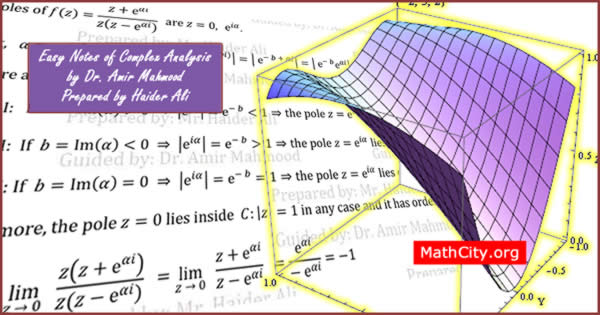 The study of complex numbers, together with their manipulation, derivatives, and other characteristics, is known as complex integration. Contour integration is a technique for analysing specific integrals along pathways in the complex plane in the field of complex analysis mathematics. The complex analytic technique known as the calculus of residues and contour integration are closely linked.
These notes are provided Dr. Amir Mahmood and prepared by Mr. Haider Ali. We are really very thankful to him for providing these notes and appreciates his effort to publish these notes on MathCity.org
If there is error or mistake in the notes, then please directly contact to Dr. Amir Mahmood for correction. He can be accessed via his email address at amir4smsgc@gmail.com.
| | |
| --- | --- |
| Name | Easy Notes of Complex Analysis |
| Prepared by | Mr. Haider Ali |
| Supervised by | Dr. Amir Mahmood |
| Format | PDF (see Software section for PDF Reader) |
What is in the notes?
Contour integration

Mittag-Lefflers' Expansion Theorem
Download or View online
Contour Integration (Type I, II, III, IV, V |

Download PDF

|
Mittag-Lefflers Expansion Theorem and Exercises |

Download PDF

|
There are notes on the other subjects