Unit 08: Linear Graph and their Application
On this page notes of Unit 08 of Mathematics 9 written by Dr. Karamat H. Dar and Prof. Irfan-ul-Haq are given.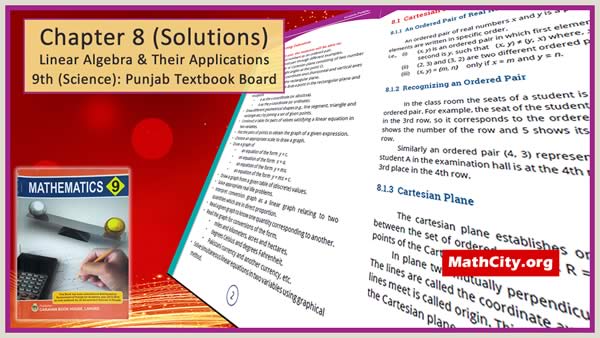 After studying this unit the students will be able to:
Identity pair of real numbers as an ordered pair.

Recognize an ordered pair through different examples.

Describe rectangular or cartesian plane consisting of two number lines interesting at right angles at the point $O$ .

Identify origin $\left( O \right)$ and coordinate axes (horizontal and vertical axes or x-axis and y-axis) in the rectangular plane.

Locate an ordered pair $\left( a,b \right)$ as a point in the rectangular plane and recognize.

$a\,$ as the x-coordinates (or abscissa).

$b$ as the y-coordinate (or ordinate).

Draw different geometrical shapes (e.g., line segment, triangle and rectangle etc.) by joining a set of given points.

Construct a table for pairs of values satisfying a linear equation in two variables.

Plot the pairs of points to obtain the graph of a given expression.

Chose an appropriate scale to draw a graph.

Draw the graph of

an equation of the form $y=c.$

an equation f the form $x=a.$

an equation f the form $y=mx.$

an equation f the form $y=mx+c.$

Draw the graph from the given table of (discrete) values.

Solve appropriate real life problems.

Interpret conversion graph as a linear graph relating to two equations which are in direct proportion

Read the graph to know one quantity corresponding to another.

Read the graph of conversions of the fom.

miles and kilometers,

acres and hectares,

degrees Celsius and degree Fahrenheit,

Pakistani currency and another currency, etc.

Solve simultaneous linear equations in two variables using graphical method.
Solutions