Pakistan Journal of Mathematical Sciences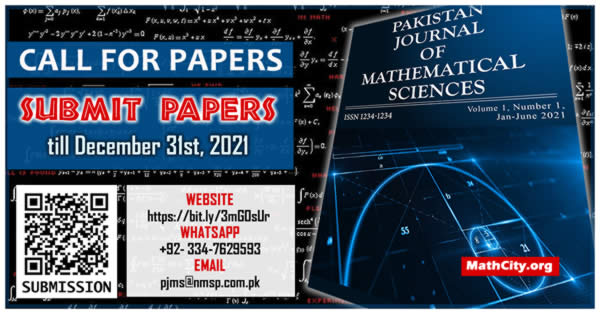 Pakistan Journal of Mathematical Sciences (PJMS) is an open access, peer-reviewed journal. The short title or abbreviation of the journal is "Pak. J. Math. Sci." Two issues will be published in a year, that is, it will be published biannually. One issue will cover from January to June and other issue will cover from July to December.
PJMS focus on all branches and subfield of Mathematics, which includes analysis, algebra, computation, graph theory, numerical analysis, geometry, topology, fuzzy set theory, probability and statistics.
The chief editor of the journal is famous Croatian academician Prof. Dr. Josip Pecaric working at RUDN University Moscow, Russian and one of Associate Editors is Dr. Asif R. Khan from University of Karachi, Pakistan. The journal will be published with the collaboration of National Mathematical Society of Pakistan.
Preferably article with similarity index by Turnitin must not exceed 19% and must not be more than 5% from a single source.
The official URL of the journal is as follows:
One may WhatsApp at +923347629593 to get more information about submission and publication process. The journal can be accessed via email at [email protected]