Operation Research by Sir Haidar Ali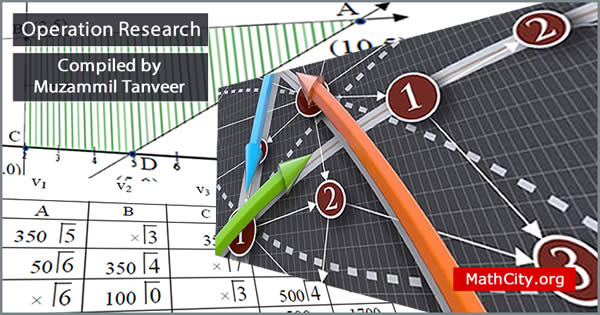 These notes are provided and composed by Mr. Muzammil Tanveer. We are really very thankful to him for providing these notes and appreciates his effort to publish these notes on MathCity.org. These are based on lectures delivered by Sir Haidar Ali at GC University Faisalabad.
| | |
| --- | --- |
| Name | Operation Research Handwritten Notes |
| Teacher | Sir Haidar Ali |
| Compiled by | Muzammil Tanveer |
| Pages | 70 pages |
| Format | PDF |
| Size | 916 kB |
Summary & contents
Linear programming

Linear function

Objective function

Optimal solution

General linear programming problem

Graphical solution of linear programming problem

Corner point

Infeasible region

Unbounded solution

Simplex method for solving linear programming problem

Surplus variable

Initial basic feasible solution

Gauss jordan method

Special case in simplex method

Degeneracy

Unrestricted variable

Two phase method

Big-m method or m-techniqu

Revised simplex method or dual simplex method

Duality in linear programming

Transportation problem

Special case degenerate / degeneracy

Least cost method

Vogel's approximation method or method of penalty

Optimal solution for transportation problem

Modified distribution method or modi method or u-v method

Maximization in transportation problem

Assignment problem

Unbalance problem in assignment problem

Network minimization

Graph/network

Connected graph
Please click on View Online to see inside the PDF.
Download or View online
Notes of other subjects